When Singapore army wanted customised, portable generating sets to provide power in remote locations, Ministry of Defense turned to PANSAR.

For industrial use, we supply power generating systems, water pressure systems, welding sets to pump sets and air compressor. For the construction sector, our range includes road compactors and mini-excavators. To boost agriculture mechanization, we provide tractors, combine harvesters, brush cutters and light carrier units for off-road use. For power generation, we are involved in the design, installation, commissioning & testing of large diesel gensets for power plants.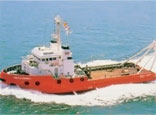 On sea, we can equip you with marine propulsion diesel engines, outboard motors and marinised generators. Powering container vessels, for all kinds of tugboats, landing crafts and fire fighting crafts, for offshore oil and gas supply crafts. Operating in not just Malaysia but also in Cambodia, China, Indonesia, the Philippines, the Solomon Islands and Thailand.
But we don't just supply premium brands, we are committed to after-sales parts service as well as engineering and maintenance support throughout our network of parts & services centres.