To Ventilate and air-condition Malaysia's first indoor water theme park, Aquabeat in Langkawi used PANSAR. We designed, supplied and installed the entire system, from the cooling towers, chillers and pumps, right down to the air handling and fan coil units, piping and ducts. Plus, of course, the state of the art control panel.
We also design clean air, filtration and ventilation systems for hospital and semi conductor plants. And for highly sensitive Liquefied Natural Gas Plants. As well as for shopping malls and high rises. We employ CAD technology to develop sophisticated energy, power and safety management systems. And you can trust us to design, supply, test and commission entire electrical/cabling systems for buildings and industrials sites.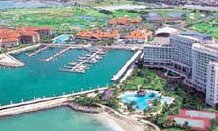 To ensure you receive the benefits you're looking for, we have a team of highly trained and experienced electrical and mechanical engineers to provide that reassuring service.