When a customer's ship stopped working while it was in Europe, we sent our technicians on the next flight out, complete with tools and spares. Because when we sell something, we sell peace of mind.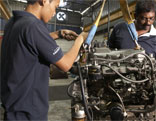 We don't just supply premium brands, we are committed to after-sales parts service as well as engineering and maintenance support throughout our network of parts & services centres.
This extends across our entire product portfolio, from engines, generators, and pumps, to air-conditioning systems. So whatever you buy from us, you can be sure we stand behind it fully.

Since 1975 we have set up Intra Malaysia Agencies Sdn Bhd as a stand-alone service and spare parts business. Because we care.